22 May

Market to Market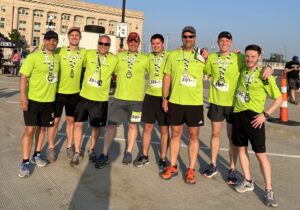 MODUS ran the Market to Market relay. Our team faced the challenging 75+ mile course and finished in 42nd place out of 174 teams. The Market to Market relay kicked off at the iconic Bell Tower in Jefferson, Iowa. Our team, accompanied by a support van donated by Deal's Orchard, embarked on an exhilarating adventure through a diverse and scenic course. The relay concluded with a lively celebration downtown.
The course was divided into 18 stages, with each runner taking on two to three segments. Stages ranged from approximately 3 to 6 miles; and included a mix of bike trails, paved roads, and gravel roads, adding an extra challenge that required adaptability and perseverance.
The MODUS team pushed its physical limits and supported one another at each stage. Together they proudly finished in 42nd place out of 174 participating teams.
MODUS is proud of the team's accomplishments in the Market to Market relay. The event was a great experience and continues to shine as an example of our company's belief in teamwork and how it's built into the foundation of the firm's culture.