Market One, Iowa's first office building with a net-zero design, utilizes several energy-saving strategies. The building's net-zero design means it has been engineered to produce as much energy as it consumes. In 2017, Market One received the highly-coveted LEED Platinum certification.
Energy usage is monitored by a flat-screen TV in the lobby. MODUS has a strong belief in sustainable design and hopes Market One's array of photovoltaic panels, geothermal wells, efficient lighting, and more will be able to provide a model business developers and architects can follow in their future developments. The design has a number of sustainable features, all driving Market One towards the goal of a net-zero certification.
Fresh air is supplied to the occupants along the exterior of the building via dozens of operable windows while interior zones are served by a geothermal coupled energy recovery ventilation system. The building's lighting system is powered with state-of-the-art LED fixtures. The Modus office utilizes a color-changing white light control system meant to mimic the natural circadian light patterns of the day. Each floor is served by a variable refrigerant flow (VRF) system with heat recovery capabilities. During the shoulder seasons, the interior zones are able to transfer heat to the exterior and upper floors, minimizing the power needs of the outdoor equipment. Market One utilizes photovoltaic panels throughout the facility and car canopy. The canopy structure consists of 676 panels producing 189 kilowatts and the building's rooftop holds 110 microinverter panels that produce 31 kilowatts. Together on a sunny day, these panels will produce 220 kilowatts, more than enough to cover the electrical consumption of the building, thus achieving net-zero status! Each aspect of Market One was carefully designed by a highly technical MODUS engineer. MODUS will continue to monitor Market One and its energy usage with the hopes of reaching the coveted net-zero status.
Building Diagram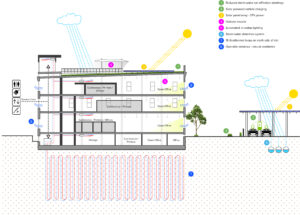 Neumann Monson's Case Study